Play ideas with eye droppers
It doesn't seem obvious at first, but eye droppers make an excellent toy for kids. Just like young kids love playing with kitchen items, eye droppers make a great learning tool. Kids love to explore with the different ways everyday objects work, and eye droppers can be used in many experiments and crafts.
Where to find eye droppers
You can buy eye droppers that are especially designed as toys, like these colorful droppers, or you can find them at craft stores and drug stores. I like that eye droppers are inexpensive and there are many ways to use them over and over again.
Playing with eye droppers helps develop fine motor skills
Fine motor skills are the skills we use to control small muscle movements in our hands and wrists. These skills help us perform day-to-day activities like holding a pencil, zipping zippers and buttoning buttons. Some of the ways that playing with eye droppers can help kids develop their fine motor skills are through:
eye hand coordination

controlled muscle movements (e.g., squeezing the bulb)

independent finger and thumb movements (to pinch and squeeze)
Play ideas for using eye droppers
One way to use eye droppers is by setting up an open-ended invitation for color mixing. For this simple activity, all you need is:
A tray (I used a baking tray)
Paper towels, napkins or coffee filters (absorbent material works better than craft paper)
Eye dropper
Colored water (you can make this with food coloring or watered down paint)
Children can explore what happens when they squeeze different colors over one another. Often the colorful creations look like stained glass. After they are done playing, you can dry out the paper towels/napkins/filters and use the multicoloured designs in another craft, like in a sun catcher or as the background for silhouette art (like this bird silhouette project).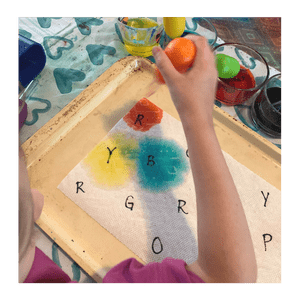 Use eye droppers to encourage letter and number recognition
An easy modification to the colored water activity is add letters or numbers on the paper towel with a permanent marker. Then you can prompt your child to drop color on specific letters or numbers. In this example, I used the first letter of each color.
Eye droppers are are fun way to add color to other crafts
Another play idea for eye droppers is to use the eye droppers to add color to other crafts. Here, we used a brown paper bag to make a tree, and then glued absorbent face pads to the tree for the leaves. We used colored water and eye droppers to create realistic color-blended fall leaves.
Sensory Play with Flower Petals
Sensory play promotes creativity and imagination, and encourages children to experiment. It can also help children feel a sense of calmness and relaxation. This sensory play activity involves using colored water and flower petals.
The set up is simple. Gather some flower petals from flowers that are nearing the end of their blooming life, or find some weed flowers that you don't mind picking. Make sure to use flower petals that are safe for people and won't cause any irritation. Next all you need is colored water, a bowl and your eye droppers. Let your child be free to make up their own potion creations.
Some other fun play ideas with eye droppers
Bath time play – grab some measuring cups, sponges and eye droppers. These simple toys will keep your kids entertained throughout bath time.
Fizzy fun – put some baking soda in a tray and then use eye droppers to squeeze vinegar onto the baking soda, and watch the fizz. You can add color to the vinegar for even more fun.
Marbled milk – this is another engaging activity using color. You can pour some milk into a bowl and then use an eye dropper to drop colored dish soap (use food coloring) into the milk. Kids will be fascinated by marbled patterns that the colored dish soap forms.
Oil and water don't mix! Use eye droppers to slowly drip colored water in to a clear container partially filled with cooking oil (an old jar works will). Kids will see close at hand how the water reacts with the oil.
Salt painting – the day before you use eye droppers for this activity, squeeze white glue in a design on paper, then sprinkle salt all over the glue (much like you'd use glitter). Tap away the leftover salt and let your design dry. The next day, you can use colored water and eye droppers to color the salt design.
How many drops? Collect some small bottle lids, measuring spoons, and other small kitchen vessels. Guess how many drops it will take to fill up each vessel, then use the dropper and see if your guesses were close.
Tissue paper color bleeding art – check out the interesting color creations you can make by dripping water on tissue paper squares from 4Kids2Moms
Simple is fun
Remember that whatever set up your kids play eye droppers, they love having freedom to just explore. Also, little hands may get tired, so it's okay if it takes a few times playing with eye droppers before young children catch on to using them.
Happy crafting and playtime!
Play ideas with eye droppers It doesn't seem obvious at first, but eye droppers make an excellent toy for kids. Just like young kids love…
Read More »
Babies who are developing in the womb are already starting to learn a language. I was pregnant when I read this fact and was astonished…
Read More »
Looking for quality blog posts or help with your social media? Please visit On the Mark Writing.
As a communications professional with over 20 years of writing experience, I provide clients with high quality content on time, as promised.
On the Mark Writing (P.S. Free quotes on all projects)